Update on the Illinois Crib Bumper Ban
On April 21, the bill to ban the sale of crib bumper pads in Illinois passed through the House of Representatives by a vote of 63-48-2. The bill (HB 3761) has not been voted on in the Illinois Senate yet. The bill may be picked up in the fall veto session.
The manufacturer's bill (HB 2653) is stuck in the Senate. HB 2653 is not a ban, but a dangerous step backwards.
For more info on the bills click here. We will keep you updated throughout the process.
General State Information
While product safety is regulated on a national level, there are many actions states can take to increase the protection of their children.
In 1999, through the efforts of Linda Ginzel, Boaz Keysar and KID, Illinois enacted the first Children's Product Safety Act. Since that time, Michigan, Vermont, Louisiana, Arkansas, Oregon, Missouri, New Jersey, and Rhode Island have passed similar legislation.
The Children's Product Safety Act protects children from dangerous and recalled products on the state-wide level. This Act makes it illegal to sell or lease recalled or dangerous children's products or to use those products in licensed childcare facilities. While the Consumer Product Safety Improvement Act (CPSIA) of 2008 banned all sale of recalled items and cribs that don't meet the current standard, the provision keeping recalled products out of childcare is still a vital safety measure.
In addition, Illinois has added tough reporting requirements. This will make it easier for parents and caregivers to learn about dangerous products. The Illinois Attorney General's office has information for consumers on product safety.
California, Oregon, Washington, Arizona, Colorado and Pennsylvania have passed the Infant Crib Safety Act that includes similar language but only applies to cribs.
Urge your state to adopt the Children's Product Safety Act. Read the Model Legislation: Children's Product Safety Act (PDF).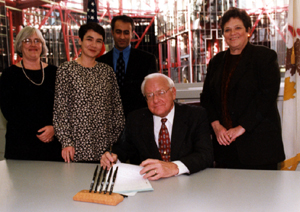 Contact Your State Elected Officials
Write or email your state representative and senator and urge them to make children's product safety a priority.
Learn More
Progress Check New!
Has your state enacted the Children's Product Safety Act?