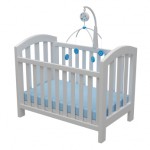 A recent survey completed by the Consumer Federation of America (CFA) reveals that most parents are unaware of the product registration requirement designed to protect young children and their families. As of June 2010, many children's products like cribs, strollers, high chairs, and play yards were required to carry a registration card and a method for owners to register online, making it easy for consumers to register with manufacturers and thus, be notified about recalls. However, a shocking 61% of adults with children under the age of 12 are unaware of this new product safety protection designed to protect young children and families from faulty products.
Unfortunately, this lack of awareness could put their children at risk in the event of a product recall. However, the survey did reveal that this protective measure is highly supported by parents once they learn of it.
KID offers three simple steps to stay up to date on recalled products. First, sign up for automatic recall notification here. Second, sign up here to receive KID's monthly email alert that includes important news about children's product safety and recalls. And finally, fill out product registration cards that come with new products so the manufacturer can contact you directly in the case of a recall. Learn more from this brochure (PDF) and get a list of manufacturer online forms here.