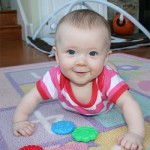 ASTM International meetings on juvenile products are well attended by manufacturers and testing laboratories.  The meetings also contain a small smattering of retailers and consumer groups, such as KID.  But it is rare that a parent of an injured or killed child attends these meetings.  In the very early days of Kids In Danger, Linda Ginzel joined ASTM and attended meetings.  She still is a voting member.  Joyce Davis of Keeping Babies Safe and Judy Sage, KID board member also attended meetings in the past.  But listening to the dispassionate discussion of product hazards that may have led to a child's death is very difficult.  KID sees our role as providing a voice for these parents at the table as well as letting them know what steps are being taken to remove the hazard.
This week, another dad came to ASTM meetings.  Charley's daughter Savannah strangled on the cord of the video monitor in her nursery.  Since her death in March 2010, Charley and his wife Lisa have worked to prevent this hazard from killing other babies.  Charley is an aviation safety expert who spent 15 years at the National Transportation Safety Board (NTSB) investigating fatal accidents.  He has applied his extensive knowledge to the problem of nursery monitor hazards. Tuesday was his first ASTM meeting.
It was a powerful experience for all involved.  The chair of the committee treated this grieving, knowledgeable parent with incredible respect and graciousness.  Charley shared his experience with the group, giving new context to the hazard that had been discussed in the past.  Then, he actively participated as the group discussed the new standard for monitors and what would be most effective in preventing future injuries.
Savannah's death and Charley's presentation put the risks of juvenile products in a new light, driving home messages KID and other consumers have shared in the past:
Even the most well educated and safety conscious parents can lose a child to an unsafe product
The person reading the instruction manual cover to cover is often not the person using the product either on a day to day basis or occasionally.
Products are not static – they are moved around the home, taken on travel, and the hazards change overnight as a child develops.
These are critical factors for the standard setting groups and manufacturers to consider as they develop new products or redesign old ones.  We are so grateful for Charley for taking on this onerous task of protecting other babies.  It was also impressive that the ASTM group welcomed the information and appears to be willing to address the hazards.
As standards are developed to make these products safer, parents need to be reminded that cords and young children don't mix.  Keep any corded products away from young children.  Mount video or audio monitors away from reach of children and secure the cord so it can't be pulled out enough to form a loop.  If you have had an experience with a baby monitor, report it to SaferProducts.gov.