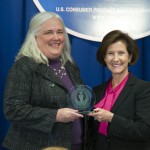 I was honored today to be one of the recipients of the CPSC's new Chairman's Commendation Awards.  The awards are given "to identify and honor people and organizations who have contributed in an important way to the benefit of consumers by directly and significantly reducing deaths, preventing injuries, and improving product safety."  I am so moved by the honor — thank you Chairman Tenenbaum!
Read more about the ceremony and the other wonderful honorees here.
It is such a privilege it is to work for Kids In Danger.  The work that Linda Ginzel and Boaz Keysar have done since Danny's death, along with our amazing board members, staff and volunteers inspires me to keep striving towards safe products.  As Chairman Tenenbaum said today, parents deserve to know that the products they use with their children are the safest they can be.  She spoke of the picture of Danny she has in her office.  Just this week several families who have lost children in dangerous products have once again spoken out to the media and told their story in comments to proposed rules at CPSC.  It is these families who are true heroes of product safety — as unwillingly as they have had to enter that field.   
Since the passage of the Consumer Product Safety Improvement Act in 2008, including sections named for Danny, and the new leadership of Chairman Tenenbaum, CPSC has created a regulatory structure that will ensure safer cribs and other juvenile products and toys.
But our work is far from done.  If anything, the progress we are making shows how far we still must go.  The new SaferProducts.gov for the first time provides public information on how children are injured and emerging hazards.  Our report showed that one in seven of the products reported were recalled products.  We must do a better job in getting recalled and other dangerous products out of homes and child care, as well as off store shelves.
So as you read of our progress and celebrate this honor with me, could you also take a minute to support KID?  We need your help to stay in the fight; and to continue to be a strong voice for families on product safety.