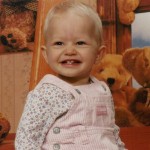 Nine years ago this week, Ellie was killed in a poorly designed portable crib with a changing table attachment.  Our thoughts are with her family as they remember their sweet baby.
Ellie and her family had just arrived that day at her Grandma's for their holiday visit and her grandmother had bought the portable crib new and set it up in anticipation of her arrival.  But when she stood up after her nap, the changing table attachment collapsed down on her neck, causing her to suffocate.
Since her death, Ellie's mother and family have been tireless advocates for child product safety.
As families travel and celebrate this holiday season, keep in mind these safety tips:
Check products for recalls, stay informed by signing up for alerts at Kids In Danger, and report all unsafe children's products and related injuries to CPSC.
Car seats:  Always use an appropriate infant or booster car seat when traveling – in your car, grandma's car or a rental or taxi. Check www.nhtsa.gov to make sure the seat hasn't been recalled. If they give you a recalled seat at the rental agency, request a new one. Review these car seat safety tips from the American Academy of Pediatrics.
Make sure your baby has a safe place to sleep. Bring along a safe bassinet or portable crib. The old crib from the attic will not be safe for your child. Check all cribs for recalls and loose or missing hardware or slats. Review KID's Safe Sleep Tips for guidelines on creating safe sleep environments.
Check borrowed high chairs, strollers and other children's products for recalls. High chairs and strollers should have harnesses to keep your baby from falling out.
Use KID's flyer (pdf) filled with children's product safety shopping tips to make informed buying decisions this holiday season.
CPSC has issued a colorful poster made for display to remind parents of toy safety for the holidays and the Illinois Attorney General's office offers a Safe Shopping Guide.
With all the hectic unwrapping and strewing about of toys, keep an eye out to make sure younger children don't get hold of inappropriate toys that might have small parts or magnets that can be dangerous. Talk to older children about keeping their toys out of reach of their younger relatives.