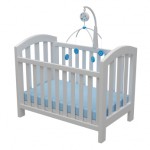 In 2010, on average, almost 230 children under six visited emergency rooms each day because of injuries associated with nursery products – cribs, strollers, high chairs, etc – the very products bought to keep them safe.
The CPSC recently released their report on injuries and deaths related to nursery products in 2010. This report only used data in which children 5 or younger were involved. According to the report, there were an estimated 81,700 injuries associated with nursery products – an increase from 2009 with 77,300 injuries. Not all these injuries were caused by the nursery products, but were associated with them.
The report also showed that infant carriers and car seat carriers were the products most associated with all these injuries in 2010. Again, these are injuries based on the car seats use outside of a car – as a carrier or as part of a travel system with a stroller.  Of the injuries, 21% were associated with infant carriers or car seat carriers. Cribs and mattresses were associated with 18% of all injuries. The report also stated that falls were the most frequent cause of all the injuries, with about 50% of the total injuries involving the child's head.
Over the three-year period from 2006 to 2008, the CPSC is aware of a total of 304 deaths associated with nursery products. This averages out to about 101 deaths a year.  Most of the deaths took place in sleep environments — 41% associated with cribs or mattresses and another 19% with bassinets and cradles.  Many involved soft bedding.  To keep your child safe while sleeping, check out KID's safe sleep tips or the CPSC's video for more information on what makes a safe sleep environment.