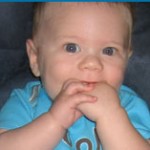 Bobby's grandmother recently shared his story on our Family Voices website. Bobby Dean died in 2007 when he was trapped between the seat and food tray of a Graco stroller. Graco finally recalled this product in 2010, but did not mention Bobby's death, only reporting on four earlier deaths and other injuries between 2003 and 2005. Had the recall taken place earlier, Bobby's life might have been spared. Another death was reported on SaferProducts.gov in 2011, after the recall.
The problem with this and other older stroller designs is that the gap between the seat and the bar or tray across the front of the stroller is wide enough to allow a child to slide down, but too narrow to allow passage of a baby's head, leading to suffocation or strangulation.
Stroller standards now require that the space either not allow the baby to slide down or also allow the head to pass through, although Consumer Reports reported on a stroller they rate "Don't Buy: Safety Risk" this year for a similar potential hazard.
Restraints should always be engaged while a baby is in a stroller and while we all know babies will fall asleep in strollers; they should never be left unattended sleeping, but moved to a safe sleep environment such as a crib or bassinet. Read more about strollers here.
In our opinion, this is a recall that came way too late and the fix provided by Graco — an insert that only allows the child's legs to go through small openings, is unwieldy and unlikely to be used. If you have this recalled stroller, we recommend you stop using it and destroy it so others can't use it. If you have had an incident with this or any stroller, report it to SaferProducts.gov to alert other parents.