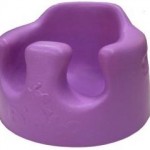 Following a recall (for new labeling) in 2007 and a warning late last year as injuries persisted, five consumer groups including KID have called on CPSC to take further action on the Bumbo International Baby Seat, including a recall of the current design. 
While much attention has been paid to the fact that many of the injuries (31 skull fractures and other serious injuries) have taken place when the seat is used on a raised surface, less attention has been paid to the numerous injuries, including skull fractures, when the seat is used as intended on the floor.  
Most parents are probably also unaware that unlike bouncer seats, high chairs, booster seats and other products they may use with their infants, there are no safety standards or safety testing required for seats like the Bumbo. The Bumbo is a popular infant product, but the groups believe it can be redesigned to address the safety concerns.  
The groups are US PIRG, Consumer Federation of America, Consumers Union, Public Citizen and Kids In Danger.