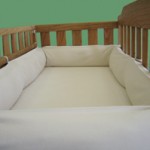 Updated: Chicago's landmark ban on the sale of crib bumper pads goes into effect this April.  Now, the Illinois House is considering a similar measure,   HB 4638, sponsored by Illinois Representative Emily McAsey of Romeoville. Thanks to the efforts of the sponsor and supporters of SIDS of Illinois, the bill moved through committee and will be voted on this Friday, March 9  by the House.  In the meantime, a companion bill (SB 2815, introduced by Ira Silverstein) did not get out of the Senate Public Health Committee Tuesday. 
Bumper pads are usually incorrectly perceived as devices that prevent infant head injuries or bruising, yet they are not proven to do so and can pose a great threat to infants.  While there is no evidence that shows that an infant is able to press up against a crib bar and cause severe injury, there is evidence that shows that crib bumper pads may create the risk of mechanical suffocation and reduce the airflow within the crib, even if the child's face is not pressed against it. Due to an infant's lack of strength and motor skills, infants may suffocate, or become entangled within the bumper pad.
The American Academy of Pediatrics, SIDS of Illinois, and Kids in Danger all warn parents not to use crib bumper pads.  On KID's webpage are the stories of Aiden and Preston, babies who suffocated on the bumper pad in their cribs.  A pretty crib is simply not worth this risk.  Call your state representative to support the bill in the full chamber. You can find your state officials by visiting www.ILGA.gov or using this form.