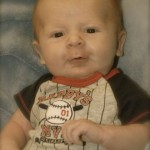 The Illinois House is still considering  HB 4638, sponsored by Illinois Representative Emily McAsey of Romeoville. The bill bans the sale of crib bumper pads in Illinois. It will be voted on this week.  
The American Academy of Pediatrics, SIDS of Illinois, and Kids in Danger all warn parents not to use crib bumper pads.  On KID's webpage are the stories of Aiden and Preston (pictured right), babies who suffocated on the bumper pad in their cribs.  A pretty crib is simply not worth this risk. 
Call your state representative today and ask them to support HB 4638 to ban the sale of dangerous crib bumpers in Illinois. You can find your representative by visiting the House website or using this form. Download this fact sheet for more information.