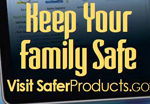 Monday, April 2, marks the first anniversary of the posting of consumer reports about products at SaferProducts.gov.  A year ago, there was much gnashing of teeth and hand-wringing about the awful effects of letting consumers tell their own experiences with products — out where anyone could see!  Prior to the new database, reports coming in to CPSC from consumers were kept in the dark, announced only in aggregate when there was a recall or pried from the vaults by a pesky Freedom of Information Act (FOIA) request.
So one year later, what has been the outcome?  A new report by KID and Consumer Federation of America (CFA) and released today with CFA and Consumers Union (CU), shows that the database is working just as intended – consumers are using the database to tell their experiences and providing detailed information.  Almost all (97%) of the 6000+ reports are from consumers and tell of incidents with cribs, strollers, refrigerators, toning shoes and more.  The reports range from minor incidents to deaths and fires caused by faulty products.  CPSC, manufacturers, consumers and others can use the data to learn about products they may have or plan to purchase as well as to spot emerging hazards or trends in injury patterns.  Some of the reports have led to recalls, but most simply provide a fuller picture of consumer experiences with products in the marketplace — additional information for parents and caregivers as well as other consumers trying to keep their families safe.
Read the press release and report details here.