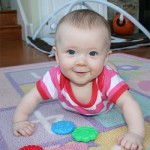 Today marks Savannah's birthday. She died before her first birthday when she was able to wrap the cord from a video infant monitor around her neck. Her parents thought the cord was safely out of reach — but that was the day Savannah learned to pull herself to a stand — putting the monitor within her reach.
Her parents are dedicated to protecting other children by warning of the hazard AND working with industry and others to develop the first safety standard for infant monitors that includes warnings and other measures to keep cords away from babies.
KID is working with a student engineering team at Northwestern University to see if more can be done through design to make monitors safer. We'll keep you posted on their results.
Infant monitors are purchased by parents trying to keep their babies safe. The images shown on the packaging often don't accurately reflect the view the parents will see through the monitor — encouraging them to move the monitor closer or put it in or near the crib. The monitor and any part of the cord should always be at least three feet away from the crib.
Of course, monitor cords aren't the only dangerous cord our children may encounter — window blind cords, drawstrings on clothing and other electrical cords all pose dangers.
Have you found solutions to keeping monitor cords and other dangerous cords away from your baby? Share them in comments.
Learn more here.