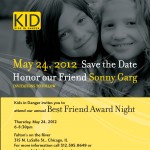 Kids In Danger (KID), a nonprofit organization dedicated to protecting children by improving children's product safety, will hold their Annual Best Friend Award Night Thursday evening, May 24, at Fulton's on the River in Chicago.
At the event, KID will honor Sonny Garg, Chief Information and Innovation Officer, Exelon with the Best Friend Award for his instrumental role in developing local and national responses to protect children from unsafe products and for his strong leadership and support for KID.
As an assistant to Chicago Mayor Richard Daley, when Danny Keysar died in May 1998, Sonny worked with public officials to pass legislation to eliminate the sale of recalled products in Chicago. Sonny later joined KID's board and served as chair of our Advocacy Committee, working to draft early legislation that was later incorporated into CPSIA and led to the world's strongest crib standards. 
The reception will include the award presentation and remarks from KID co-founders and Mr. Garg. In addition, there will be live and silent auctions as well as a raffle. 
Prominent Chicago chefs are lending excitement by bringing select tasting dishes for the event.  Our chefs this year include: Chef Luca Corazzina of 312 Chicago, Chef Jess De Guzman of Sunda, Chef Vicente Duran of Vivo, Chef Tony Hu of Tony Gourmet Group, Chef Kevin Schulz of Fulton's on the River and Chicago Pastry
The event promises to be celebratory and heartwarming.  The local community has expressed strong support with sponsors including Toys "R" Us, Exelon, GATX, Turano Bakery, and many individuals who came together as our Host Committee of KID Stars, co-chaired by the Honorable Jan Schakowsky and Marjorie Craig Benton. 
Buy tickets and raffle tickets here.