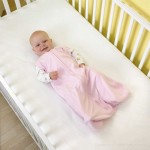 KID has been firm on its position against the use of crib bumper pads. Bumper pads pose a risk of suffocation, strangulation, and death. Children have died as a result of this product –we believe the risks outweigh any potential benefit. Six month old Aiden lost his life by suffocating on a crib bumper pad. Preston, who was seven weeks old, also died when he rolled out of a sleep positioner and against the bumper in his crib.
As awareness heightens on the dangers of bumper pads, more actions are taking place to prohibit their sales. The City of Chicago was the first governmental unit to impose a ban in 2011. Now, Maryland has also proposed a ban. Once implemented, Maryland will become the first state to make the sale of crib bumper pads illegal. An advisory panel of four doctors recommended the ban after holding two public meetings and receiving public comment. After a year-long review of the evidence and public comment, experts agreed that baby bumper pads pose unreasonable risks to infants. As a result, the proposed regulation will ban sales of the bumpers in Maryland starting June 21, 2013, giving retailers nine months to prepare to comply with a ban. The ban would not apply to vertical bumpers that wrap around each individual crib rail or mesh crib liners. Nevertheless, KID and the Maryland Department of Health still discourage the use of those products.
The Maryland ban will be part of a larger public education campaign on infant "safe sleep." Babies should sleep alone, on their backs, and in a safe crib. KID has always stressed that a bare crib is a safe crib.
The Juvenile Products Manufacturers Association (JPMA) has been pushing the US Consumer Product Safety Commission and ASTM International to write standards to protect 'traditional' bumpers as opposed to thicker bumpers.  However, the deaths  we are aware of took place on these traditional bumpers and JPMA has presented no data that distinguishes between the two on safety.
Contact us with any questions about bumper pads, safe sleep environments, and how to support this proposed regulation. Public comment on the proposed regulation will be accepted until August 13, 2012. Here's more information and directions to file comments.