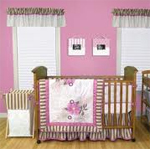 People do it all the time.  Walk into any grocery store and you'll see infant seats perched on shopping carts.  Infant carriers and seats placed at eye level on counters and tables show up in everything from advertisements to network television sit-coms.  Both in magazine spreads and retail stores, cribs are packed full of beautiful comforters, pillows, and baby bumpers.  Would these be featured on a cover or commercial if they weren't safe and acceptable?  A store wouldn't sell a product unless it was certified to be safe.  Right?  Wrong. There is often a disconnect between how children's products are used and what we know is safe.  
"If it is in a store or seen on TV, it must be safe." This should be true, yet it is not. Parents are misguided by what they encounter in publications since many portray the use of products in a manner that pose serious risks, such as placing a car seat in a cart while shopping, or seating a child in a carrier/seat on the counter while doing chores.
Seating children on elevated surfaces makes falls and injury more likely. This risk is true when using any type of infant seat, such as child carriers or car seats. Every year thousands of children are rushed to emergency rooms with injuries from infant carriers and seats, most from falls.  Some products, such as Bumbo seats, have been recalled because of the severity of injuries when used on elevated surfaces.  Check CPSC's website in order to identify other recalled infant seats or carriers.    
KID advises:
Never put car seats or carriers on raised surfaces.
Do not place car seats or carriers on top of shopping carts.
Use restraint straps every time you place your child in a seat.
If a child is sleeping in a seat, do not place the seat on soft materials, such as a bed or couch. The baby can tip the seat over and suffocate if s/he ends up facedown. 
Check for recalls regularly on CPSC.gov and make sure the child products you own meet current safety standards.
 Not only can the manner in which we use children's products be depicted incorrectly in the media, the products that are featured themselves may be unsafe. Even products that have been recalled or deemed unsafe by CPSC (such as Bumbo seats or sleep positioners) can still be found in stores. Although illegal to sell in Chicago, due to their risk for suffocation and entrapment, crib bumpers can still be found in homes and online, as well as outside of Chicago.
The American Academy of Pediatrics, SIDS of Illinois, and Kids in Danger all warn parents not to use crib bumper pads. The best way to ensure safe sleep is to use a bare crib that meets the newest crib safety standards. The stories of Aiden and Preston, babies who suffocated on the bumper pad in their cribs, are examples of the dangers of bumper pads and can be found on KID's webpage. 
For Safe Sleep:
Soft materials such as pillows or comforters should not be placed under a sleeping infant.  
Keep soft objects and loose bedding, including crib bumper pads and sleep positioners, out of the crib.  
No matter how pretty they look, bumper pads (shown in picture, right side) are NEVER safe.
The infant should be lightly clothed for sleep. Avoid over‐bundling. Use a blanket sleeper if needed in order to keep blankets or other dangerous coverings out of the crib.
Please remember not to rely on what is seen in the media or stores for safety. Depend on information from your child's doctor or organizations such as the American Academy of Pediatrics, KID, or SafeKids.