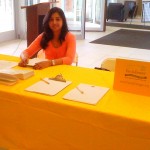 This summer, Kids in Danger (KID) is focusing on outreach programs, attending health fairs, and distributing our informative Safe From the Start DVD's and other safety information. Here's a picture from our most recent attended event, the Senior Health and Resources Fair at Vanguard Weiss Memorial Hospital. If you have an event coming up or know of one, please contact us.
As always, KID will be sending out monthly email alerts that describe recent child product recalls, updates in product standards, and child safety tips. If you have not done so already, sign up to receive our alerts.
We couldn't do our work without amazing volunteers, student workers and part-time staff who make sure KID fulfills our mission.
Meet KID's Summer Staff: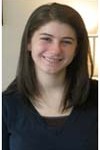 My name is Tali Datskovsky and I am a South Asian Languages and Civilizations major at the University of Chicago. I am especially interested in children's rights and welfare. I am very eager to experience the dynamics of working at a non- profit that addresses issues affecting children and their caregivers and I especially admire the approach KID takes towards addressing these issues—through extensive research, outreach, and working with policymakers to bring about change.

My name is Mohamed Ahmed. I was born in Saudi Arabia and grew up in Sudan. My native language is Arabic and I am helping to translate KID documents. This is an opportunity for me to put my language to good use, all while becoming more integrated in American culture and perfecting my English. I hope to grasp a better understanding of how non-profits work through my internship. Because of my background in Finance and Banking, and my current studies in Chicago at EF school, I would like to learn about non-profit fundraising.

My name is Alejandra Gutiérrez. I am a graduate student of Social Work at The University of Chicago's School of Social Service Administration. I was born and raised in Chicago's Mexican immigrant community of "La Villita," Little Village. I'm looking forward to promoting KID's mission to develop safer products, advocate for children and educate the public. It is extremely important to raise awareness about dangerous children's products in all communities. It is with great enthusiasm that I join KID and hope to contribute to the benefit of our community.

My name is Mimi Milanés. I am a pre-med student studying Psychology at the University of Chicago. I starting volunteering and working at nonprofits in the Bronx, NY, at a very young age. I joined KID in February and have stayed here because this organization is dedicated to ensuring child health and safety. KID tries to reach as many caregivers as possible through through email alerts, blog posts, and outreach programs. It is unlike any non-profit I have worked for, and I am glad to be a part of its staff.

Hi, my name is Archita Singh. Almost two and a half years ago, I moved to the United States from India with experience in public relations. I joined KID in October 2011 as a volunteer and now feel privileged working as the Administrative Assistant with an organization that is doing such significant work to protect children. I feel it is imperative that every parent is aware of this organization. KID has been very enriching; it is helping me understand the dynamics of this sector, and is providing me a great learning experience that I will always cherish.

My name is Liliya Shmuylovskaya, I was born in Ukraine and moved to Chicago in 1994. For a while now I have been interested in child development and well-being. I think it is society's duty to keep children safe and provide them all the opportunities to thrive in a safe haven. I really enjoy working for Kids In Danger because I believe their work is very important. Working in several other non-profit organizations, I think KID does a great job at staying innovative, creative, and independent.