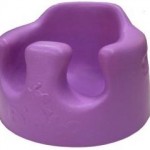 Today, CPSC announced the recall of 4 million Bumbo infant seats. Babies have suffered skull fractures when they tip the seat over or fall out. Most injuries result when the seat is used on raised surfaces, but babies have also been injured when using the seat as intended on the floor. 
Since the first recall notice in 2007, CPSC is aware of 84 incidents, including 21 skull fractures.  Most, but by no means all, of the injuries took place when the seat was on a raised surface. 
The recall involves getting a restraint strap and a new warning label to reinforce the message that the product should only be used on the floor. 
KID has previously reported on injuries from use of the Bumbo seat. In February we joined with other consumer groups to call for action, such as we are seeing today. If you use a Bumbo, do not use until you get and install the restraint strap.  If your child has been able to get out or fallen out of the Bumbo, report the incident to SaferProducts.gov.