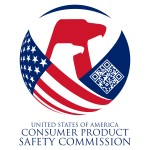 On average, the Consumer Product Safety Commission (CPSC) recalls children's products more than twice a week. It can be hard for busy parents and caregivers to keep up with them all.  Past experience tells us that most recalled products remain in use, and reports on SaferProducts.gov indicate that many go on to cause additional injuries.
Your first and best source for information on most recalled products[i] is CPSC.gov. (Great new logo by the way, yes?) At their recall page you can find recent recalls or search by product type, brand, or hazard.  You can sign up to get an email notice every time a product is recalled.  At SaferProducts.gov, the CPSC's consumer database, you can not only check for recalls or reports from other consumers, but make your own reports of dangerous products.
Kids In Danger (KID) also has resources to help you keep up with recalled products.  You can sign up for monthly email alerts with children's product recalls and other product safety news here.
KID has also released a new mobile website. The new site, accessible by visiting www.KidsInDanger.org from any mobile device, allows you to access information about recalled products on the go.  Through the WeMakeItSafer's robust Recalled Product Search application you can search for recalled products — great while shopping at garage sales, checking out a friend's hand-me-downs or checking that the crib or high chair at grandma's house hasn't been recalled.
The availability of sites that allow you to track recalls or register your products for recall notification has grown tremendously in the past few years.  These include Wemakeitsafer.com, Safetybook.com, and Recalls plus (an application for your mobile device) in which you can keep an eye on the products your children use most with your personal watch list and track recalls. Let us know in Comments your experiences with these sites or if there are others you have used and found handy.
As part of Danny's Law passed in 2008 as a section of the Consumer Product Safety Improvement Act, manufacturers of durable infant and toddler products – cribs, strollers, high chairs, etc – must include a postage paid card and a way to register your product online – assuring you will hear about a recall affecting your products.  You can find manufacturer's online registration sites on our list and register even older products you already have at home.
It's one thing to keep up with recalls, but you must also take the next step of complying with the recall remedy – returning the product, registering for a repair kit or destroying the product. And remember, if you have an incident with a product – recalled or not—that indicates a safety issue, report it at SaferProducts.gov.
---
[i] Vehicles and child restraint systems (car seats) will be listed at NHTSA.gov and food and medicine at FDA.gov.  You can reach a list of all government recalls at Recalls.gov.