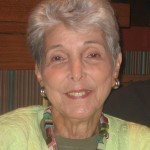 Sunday, September 9, 2012 is National Grandparents Day. Every day grandparents impact our lives and serve as teachers and caregivers for our children. It's important for them to have recent information on children's product safety to protect children under their care.
In 2009, KID launched The Debby Sayah Grandparent Outreach Project to provide lifesaving product safety information targeted to the needs of this essential population of caregivers. The program is named in memory of a wonderful grandma who was passionately devoted to her grandchildren. Debby's grandson, Andy, suffocated on a sleep positioner in 2001. This program is the legacy of Andy and all of the children who've been injured or killed by unsafe children's products.
KID wants to empower grandparents to protect children from unsafe and recalled children's products. You can learn more at our website – we've got a page with links just for grandparents. 
So make sure to tell the grandparents in your child's life "Happy Grandparent's Day" this Sunday and let them know you appreciate all they do.  Sign up to receive KID's monthly email alerts and our special grandparent emails.  If you include an address and the word "grandparent" in the comments section, we'll send a special Grandparent Safety Packet to the special grandmas and grandpas in your life.