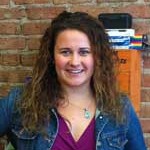 My name is Laura Nikolovska and I just started as the new Program Associate for Kids in Danger (KID). Before joining KID I served as an Education Advisor for the US Peace Corps in the Republic of Macedonia. Prior to my service with the Peace Corps, I was a social studies teacher at Latino Youth Alternative High School in the Pilsen- Little Village neighborhood of Chicago.
As the Program Associate, I will focus on KID's outreach and education programs and advocacy efforts. I am wholeheartedly committed to achieving KID's mission to promote the development of safer products, advocate for children and educate the public, especially parents and caregivers, about dangerous children's products. Our programs currently provide lifesaving information to parents, caregivers, grandparents, health care providers and others in a variety of communities in our hometown of Chicago and around the country.
I'm looking forward to advancing the programs that are already in place at KID and am eager to develop new programs and outreach efforts at the organization as well. If you or someone you know is interested in learning more about children's product safety, please feel free to contact us.