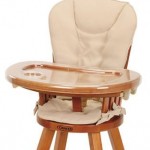 Today the U.S. Consumer Product Safety Commission (CPSC) and Health Canada announced a joint recall of Graco Classic Wood Highchairs due to a fall hazard. The seat of the chair can loosen when lifting or removing the child from the chair so that it can detach from the base of the chair. So far, Graco has received 58 reports of such loosening which has resulted in 9 falls that left children with multiple bumps, bruises and scratches and 1 reported concussion. CPSC advises parents to immediately stop using the chair and to contact Graco at (800) 345-4109 (between 8 a.m. and 5 p.m. ET Monday through Friday) for a free repair kit. Parents can also visit Graco's website to order a recall repair kit.  Kits should arrive to within 2-3 business days. A video of how to use the repair kit to fix your chair is also available at the company's website. (At the time of this writing, the video was not working).
Over 3 million high chairs have been recalled since 2007. There are many hazards that may lead to a recall, but the most common reasons for a high chair recall are restraint bar failure, collapsing joints, inadequate belts and straps, and an unsecure seat. These hazards can result in a child slipping or falling out of the chair.
These chairs are certainly not Graco's first high chairs to be recalled. In 2010, the Harmony high chair was recalled due to a fall hazard and prior to that time, two other high chairs were recalled for a choking hazard and collapse hazard. Graco has had a variety of products recalled throughout the years, including: strollers, swings, play yards, walkers, beds, carriers, bath sets, stationary entertainers and cribs.  If you think you may have one of these recalled Graco products in your home, search the CPSC recall database for your product and information on what to do. If you have an incident with any children's products, report it at SaferProducts.gov.
As required by Danny's Law, part of the 2008 Consumer Product Safety Improvement Act, the CPSC is developing a mandatory high chair standard. However, this standard won't be finalized until 2015. In the meantime, parents and caregivers can continue to check the CPSC website for recalled items, and sign up for KID's monthly e-alerts through KID and follow us on Facebook and Twitter.