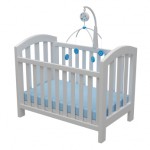 Despite recent improvements in standards for cribs, unsafe cribs continue to be widely used in nurseries, a new study released today by Kids In Danger (KID) finds. The study examines consumer reports on cribs posted between April 2011 and May 2012 on SaferProducts.gov, the U.S Consumer Product Safety Commission's (CPSC) online database. The consumer reports examined described incidents, injuries, or death associated with cribs.
Parents may still not be aware of the new standards or may have purchased cribs before the new, safer standards were implemented. These older crib models are likely to remain in nurseries for years to come, posing hazards to the children sleeping in them.
Twenty percent of the cribs involved in incidents were recalled models.  Fourteen percent of those were recalled at the time the family purchased the crib – usually second hand.
Additional findings of the report include:
 The most widely reported incident was an arm or leg caught in slats, (41%). In the vast majority of these incidents the child was over 8 months of age.
The most commonly reported hazards were entrapment in slats at 41%, followed by entrapment at 37% and falls at 33%.
Most reports involved no injury (53%) or injury with no treatment needed (20%).
Approximately 70% of reports that included a purchase date had a purchase date that was within the last five years. About 9% had purchase dates after September 28, 2011.
Unsafe cribs remain in widespread circulation and appear to be still available for purchase at second-hand stores or yard sales. In order to ensure that a crib is safe, KID recommends replacing older cribs and any recalled cribs. In addition, caregivers can ensure crib safety by keeping a crib bare—no loose bedding, bumpers, or pillows, and ensuring the sheet in the crib is tightly fitted.
To find out more about crib safety, visit www.KidsInDanger.org.