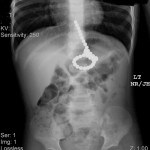 Back in September 2012 the CPSC issued a notice that would result in a ban of the sale of high powered magnet sets. The rule is in response to the growing rise in magnet digestions, which can be very serious and even life threatening and often require surgical removal. This regulation would be similar to the one made for children's toys; requiring that the toy must be larger than CPSC's small parts cylinder (about the width of a toilet paper roll) and have a flux index of 50 or less.
Eleven out of the 13 manufacturers have agreed to discontinue their sale of these high powered magnets sets, but two manufacturers, Maxfield and Oberton and Zen Magnets have refused to cease the sale of their dangerous products. Maxfield and Oberton has not only refused to stop selling their life threatening product, but they are actively engaging in an aggressive public relations campaign against CPSC action so that they may continue to sell a product that is resulting in countless emergency room visits across the country for infants, children, and teenagers.
 Magnet indigestion may be hard for pediatricians to initially detect because children often develop common flu–like symptoms as a result of indigestion and while health care professionals are trained to screen for many conditions and injuries, they may not immediately screen for foreign body (such as magnet) indigestion. The longer this diagnosis takes, the greater the damage to the bowel of the patient. Clearly, there are incredibly serious health consequences that result in the digestion of this unnecessarily dangerous toy.
You can take the following 3 steps to ensure that these high powered magnet sets are banned so that children of all ages are no longer seriously at risk:
1.)    Submit comments to the CPSC by November 19, 2012. Simply click here to post your comment.
2.)    Contact your member of Congress and let them know that you too support the ban of high powered magnet sets.
3.)    Become one of the hundreds of people that have "Liked" the Fatal Attraction: Save our Kids from Magnet Ingestion Facebook page and share the page with your friends, family, and colleagues.
By taking these simple steps to action, you are helping to ensure that more children will not be victims of these dangerous and unnecessary products.