One of KID's most important efforts is to reach out to inform parents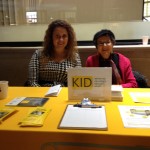 and caregivers about children's product safety and give them the resources they need to keep children safe. To that end, our team participated in workshops and events near and far recently.
KID presented a bilingual workshop on child product safety to a group of parents in Evanston, Illinois. At the Senior Health Fair at Weiss Memorial Hospital in Chicago we provided information from our Debby Sayah Grandparent Outreach Program to local grandparents.
The KID team traveled to Aurora and Quincy in Illinois and to New Hampshire to educate various groups of child care providers, early childhood educators, and parents about child product safety and new crib safety requirements and encouraged them to become child safety advocates in their own communities. In New Hampshire, Nancy presented alongside Lisa Olney, whose daughter Ellie was killed in an unsafe play yard.
Our longtime partner, Asian Human Services held a senior health fair in Chicago and shortly thereafter KID conducted a workshop for mothers in the organization. In between these two events, KID met with over 300 new and expectant parents at the Prentice Women's Hospital's Community Baby Shower in Chicago, Illinois.
We need your help to reach even more parents and caregivers. Not only does KID provide the tools to keep children safe, but we encourage parents to become advocates for safety – increasing efforts for a strong child product safety system. Contact Laura if you have suggested outreach events or can help with these efforts.