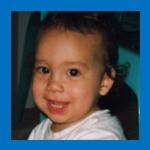 In 1998, Danny was killed when a recalled portable crib collapsed around his neck at his licensed child care home.  KID is Danny's legacy.  Today, KID has the same commitment to the cause we did when Danny first died. We want to prevent dangerous products like the portable crib that killed 16-month-old Danny from reaching the market in the first place.  KID has put child product safety on the national agenda through Danny's Law, named in his honor, and with our advocacy efforts at strengthening CPSC actions and government oversight.  We've seen progress and we know with your help we can solve the problem of dangerous children's products. 
The crib Danny died in had been recalled five years earlier, but no one knew that – not even the state inspector who visited the child care home just days before his death.  Recall effectiveness continues to be a huge issue facing the safety of children.  More than 12 million cribs, bassinets and play yards have been recalled just since 2007, but most remain in use.  The rates of recall participation are dismal at between 10-20%.  Danny's Law prohibits the sale of recalled products or dangerous cribs, but many products remain in homes, sold at garage or rummage sales, or passed on to friends and family.
Linda Ginzel and Boaz Keysar, KID co-founders and parents of Danny, are offering a 1:1 match up to $10,000 to donors who give between now and Danny's birthday, December 31st, 2012.  He would be 16 years old this year.
KID continues to search for ways to get life-saving information to the owners of defective cribs and other children's products.  Even with the world's strongest crib standard going into effect in 2011, cribs like the one that killed Danny are out there.  KID still has to let people know the risks or recalled products.  If the government can't do this, and the manufacturers don't, then KID will.
Please celebrate the life of Danny Keysar, the week of his 16th birthday and give to support KID's work.