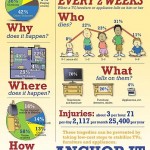 Lots of injury statistics coming out of the US Consumer Product Safety Commission (CPSC) this week.
First, be sure and check out their new infographic. (PDF)  A child died every two weeks in 2011 from furniture, TV and appliance tip-overs.  The CPSC gives tips on anchoring furniture and preventing tip-overs as does Shane's Foundation.  Shane died in 2011 when his nursery dresser tipped over on him.
Beyond steps parents can take to prevent tip-overs, manufacturers of TV and furniture should look to develop design solutions that will prevent dressers or shelves from tipping under the weight of a child.
CPSC also released their annual report (PDF) on injuries and deaths from juvenile products – cribs, strollers, high chairs and the like we buy to care for our children.  In 2011, 74,100 children were rushed to emergency rooms with injuries from incidents involving juvenile or nursery products.
The products most likely to be involved were infant carriers, including car seat carriers (outside of cars), strollers or carriages, cribs or mattresses and high chairs.  Falls were the leading cause of injury with heads being the body part most frequently sustaining injury.
CPSC states that from 2007 to 2009, an average of 114 children died each year from these types of incidents. Sleeping environments and bathing account for the most deaths.  Cribs and mattresses, bassinets and cradles, play pens and play yards and baby bathtubs or seats, along with infant carriers were associated with 89% of the fatalities.
A few notes:
Seventy three percent of the deaths took place in products considered sleeping environments: cribs, mattresses, bassinets or play yards.  Most of the deaths involved soft bedding added to the product.  Between 2007 and 2009, 148 babies died in cribs.  Twenty seven percent of the deaths involved problems with the crib – recalled, misassembled or drop-side malfunction.  Babies sleep safest in bare cribs that meet current standards.  Never add soft bedding of any kind – including crib bumper pads or sleep positioners.
Thirty-seven babies died in infant carriers in the 2007-2009 period.  The most common scenario was entanglement in restraint straps. Always use the restraint straps when your child is in a carrier – in or out of the car.  Never leave a child sleeping alone in a car seat carrier.
Twenty-two babies died in bath seats or baby bath tubs.  KID recommends against the use of bath seats – they aren't stable and make it more likely a child will be left alone –even for a minute.  Always keep a hand on a bathing baby and use as little water as necessary.
Kennedy (2008) and Bobby Dean (2007) are among the babies who died and are included in CPSC's data.
KID is committed to working with CPSC and others to strengthen standards for all these products and educate parents and caregivers about children's product safety.  We encourage CPSC to upgrade their data collection to allow analysis of more recent data.