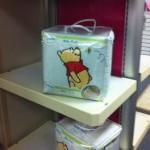 Last April, Chicago became the first municipality (or any governmental unit for that matter) to ban the sale of crib bumper pads.  The ordinance's sponsors (Aldermen Balcer and Cardenas) and those who voted for it listened to the testimony of SIDS of Illinois and Kids In Danger and realized that these useless, decorative items weren't worth the risk. 
This December, we decided to find out how it was working.  KID and SIDS of Illinois staff visited eight Chicago stores and called six others.  We visited everything from big box stores like Wal-Mart, Target, and Costco to chains such as Big Lots and JC Penney to small boutiques catering to families in Chicago's trendiest neighborhoods. 
To our delight, bumpers were hard to come by in the city.  Five of the stores we visited had no bumpers available and of the six stores we called, one didn't sell infant bedding at all and five told us they couldn't sell bumpers in Chicago – it was illegal. 
But the news wasn't all good.  At a Sears on the southwest side we were able to purchase a bumper pad and another was displayed in the store.  At a Wal-Mart on the west-side we found a bumper in the baby department, but when we tried to buy it, the register came up with "Sale Not Allowed", so we left the store empty handed.  And at one of those trendy boutiques we found a bumper pad displayed in the front window and the offer to make us custom bumper pads.  On their online site, one can order several different bumpers, custom made and delivered in six weeks. 
We reported the violative sales to the City (Call 311 if you see bumpers for sale anywhere within city limits).  We'll check back to make sure they are gone shortly from the very few stores that sell them.
Overall we are so grateful to Chicago's retailers who are taking this safety measure seriously and following the law.  In June, a similar ban will be in effect in Maryland.  We'll also be looking for other communities interested in protecting the babies in their jurisdiction with a similar law. 
What you need to know about crib bumper pads:
Just like any soft bedding, crib bumper pads need to stay out of a baby's crib.  Babies have suffocated on these items and they are completely unnecessary in the crib. Babies sleep safest on their backs in a bare crib that meets current safety standards.
If you live in Chicago (or Maryland after June 2013) and see bumpers for sale, report the retailer.  In Chicago, call 311, in Maryland call the Department of Health & Mental Hygiene. 
Make sure there are no bumper pads in the child care facility you use – they are banned in child care in most states, but a handful still allows them.
Want to do more?  Call us to see how you can advocate for safer crib environments by talking with retailers, policymakers and other parents and caregivers.