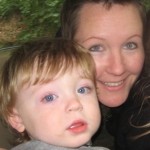 Today CPSC and Gemme Juvenile announced the recall of Natart Chelsea dressers for tip-over hazard. The dressers can tip, trapping toddlers or young children.  The company will send anchoring straps to prevent tip-overs.
In March 2011, 2 year old Shane of Barrington, Illinois was crushed by this dresser. His mother had tucked him in for his nap, but found him under the dresser when she returned. Shane's family continues to push for tougher standards and availability of anchoring straps.
"I am glad attention is being brought to this often overlooked danger," states Lisa Siefert, Shane's mom.  "Many people assume when they buy a product, especially a baby product sold at a baby store, that it is safe – but that is just not true. I hope families take notice of this recall and take action to secure ALL their furniture so they avoid the tragedy that befell Shane and our family."
This was not a household dresser that Shane's parents repurposed for his room, but a dresser specifically designed for a nursery. It had an option to add a changing table unit. It should never have been designed so that it could be tipped by a lightweight two year old. In addition, it should have been sold with the anchoring straps and instructions that were part of today's recall.  On SaferProducts.gov, there are at least seven reports in the last two years of dressers tipping on children, most of which were designed for children's rooms.
Every two weeks a child dies when a television, piece of furniture or appliance tips on him or her.  CPSC has put together a very effective public education poster.  KID urges child care providers, doctors, retailers and others who work with families to print and display the poster.  Ask retailers and manufacturers for straps to anchor furniture.  KID will be joining Shane's Foundation and many others in asking for a strong mandatory standard to address this hazard.
Update:  Another dresser is recalled after two toddler deaths from tip-over. Download and post this poster from the Illinois Attorney General's Safe Home Coalition to alert others to the danger of furniture, television and appliance tip-over.