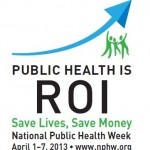 If you follow KID on Twitter (and we hope you do!) you know that we have been tweeting all week about National Public Health Week (NPHW), celebrated the first week of April each year.  The focus of NPHW is to recognize the contributions of public health and highlight issues that are important to improving the health of our nation. KID's mission of protecting children by improving children's product safety fits right in with that focus.
This week, we mark the accomplishments of KID and our allies in improving children's product safety.
In 2011, the

toughest crib standards in the world

were adopted and injuries as a result of faulty cribs have dropped dramatically.

We recently celebrated the second birthday of

SaferProducts.gov

. This website allows parents and other caregivers to easily

report

unsafe products and help keep other children safe from dangerous products.

Every year more products are covered by mandatory safety standards required under

Danny's Law

.  In 2013, a

strict new standard for play yards

became effective, helping to cut down on the injuries associated with those products.
KID is proud of this progress but we know there is still a lot to do. Currently, we are supporting HB 3052 which would ban the sale of bumper pads in Illinois. If you would like to join us in this endeavor to keep babies safe, please join the KID Action Team.
We hope that you have been keeping up with KID and National Public Health Week. Please take this opportunity to join us in promoting public health and safer products — tell us what public health issue you are tackling.