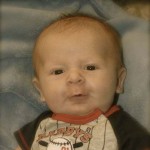 Attention all Illinois residents! The Illinois House is considering HB 3052 which would bring the rest of the state in line with Chicago's adoption of a ban on the sale of crib bumper pads.  Call your legislator and urge them to vote YES on HB 3052. 
To keep up with KID's action agenda no matter where you live, join our KID Action Team.  We'll give you the tools to be an effective voice in your community for children's product safety.
Monday is the three year anniversary of the death of eight week old Preston who died when he rolled off a sleep positioner and into a crib bumper pad where he suffocated.  This should serve as a reminder to all of us to not only support actions such as the CPSC and FDA warning on sleep positioners and bills such as HB 3052 and Maryland's ban on crib bumper pads, but to keep infant sleep environments free of all soft bedding. 
This week, The Consumer Product Safety Commission (CPSC) also posted a new proposed standard for soft infant carriers.  Comments will be accepted until June 19, 2013.  This is the most recent in a series of proposed rulemaking required under Danny's Law.  When Danny's Law was passed in 2008, it mandated federal standards for durable nursery products such as cribs, strollers, carriers, etc.  When the process is complete, parents can have assurance that the products they buy to care for their children have been independently tested to strong standards.  That is a real legacy of Danny and all children injured or killed by dangerous children's products. 
KID Executive Director Nancy Cowles is spending this week at ASTM International headquarters working on a wide range of voluntary standards for infant and toddler durable products.  It is from these standards that the mandatory standards are built.  KID is one of only a handful of consumer representatives in the room.  We make sure the consumer view is heard.  Anyone can join ASTM and participate. 
KID will be hosting their workshop Creating Safe Environments for Children at Erie Health Family Health Center on Wednesday April 10 to a group of about 30 professional case workers.
So whether it is national and state policy or standards development or educating parents and caregivers about dangerous products, KID is a strong voice for safety. Learn how you can help us with our mission.