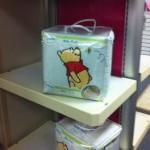 First the good news… Maryland's legislative session ended with no further action on SB 618 which was an attempt to stop the ban on the sale of crib bumper pads which is to go into effect in June.  With that, the ban is all set to be enacted, starting on June 21, 2013.  You can find more information on the ban and its implementation at the Maryland Department of Health and Mental Hygiene site. 
Here in Illinois, HB 3052 which passed a House committee was not called for a vote last week before the deadline.  Flooding in Illinois meant that many representatives left early to be in their districts, making it difficult to get the number of votes needed for passage.  It is possible the bill will get an extension or another bill will be available to amend later in the session.  Thanks to all of you who called or wrote your legislators.  The bill's sponsor, Rep. Emily McAsey, worked hard to educate lawmakers — we had bi-partisan support on the bill. We will continue to work on this issue.  
Want to keep up with action around the country that will strengthen our children's product safety system?  Sign up for the KID Action Team.