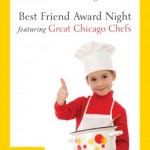 Check out some pictures of this year's event.
Join KID at our annual Best Friend Award Night May 23, 2013 at Fulton's on the River in Chicago.  KID and our supporters will gather to mark our 15th year and a new KID Best Friend.
At the event, KID will honor Shawn Kasserman with the Best Friend Award.  Kasserman, Partner at Tomasik Kotin Kasserman, served as counsel for Linda Ginzel and Boaz Keysar in their lawsuit against the manufacturer and licensor of the portable crib that killed their son Danny. Since that time he has been actively involved in working to improve children's product safety.
The reception includes the award presentation with remarks from KID co-founders and Kasserman as well as a live and silent auction, raffle, and small plate offerings from chefs. 
Chicago's top chefs are pulling out all the culinary stops to create a plethora of exciting dishes for you to enjoy at the event. Sample authentic Italian homemade delights with a fine dining twist, the best of Chinatown's delicious Sze Chuan heritage, good ol' North American BBQ scents and flavors, and much much more to tempt your palate.
Special thanks to Chef Luca Corazzina – 312 Chicago, Chef Tony Hu – Lao Sze Chuan, Chef Jess DeGuzman – Sunda, Chef Samantha Kendall – Sam's Gourmet Lasagna, Chef Vicente Duran – Vivo, Chef Kevin Schulz – Fulton's on the River, and Chef Mike McDermott – Smoque BBQ
It is only with the help of KID supporters that we can put on events such as this. We'd like to extend our thanks to our sponsors — you can see the full list here.  A great way to support KID's work if you can't join us at this event is to give a donation – -helping us reach even more families with our life-saving message.
Be a part of something big – join us at the 2013 Best Friend Award Night. We hope to see you there!