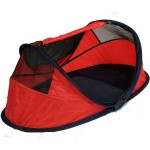 As the students at Northwestern University are finishing up their spring quarter, the freshman engineering students proudly presented their final design products. Four teams of students worked with Kids In Danger (KID) developing prototypes to address design problems that had led to injuries, deaths and recalls.
 Two teams took a look at recent recalls for infant sleep environments other than cribs – the PeaPod Travel Bed, Nap Nanny and others as well as injury data that pointed to unsafe sleep environments such as adult beds, couches, over padded bassinets or play yards and other items.  They were tasked with developing a product that could be used either at home or for traveling that provided a safe sleep environment for infants under eight months. 
The two design prototypes – the SleepSmart and the Baby Bungalow – incorporated their responses to unsafe designs.  Both teams used mesh to provide airflow. However, they considered the likelihood that the person setting up the sleep product would probably not be the one who bought it and instruction booklets would not be consulted.  They considered portability and convenience, but as one Baby Bungalow team member said the key mission was safety", so they always compromised convenience for safety.   The SleepSmart team dug deep into ASTM International Standards for play yards and tested their design using test methods and performance requirements from that standard. 
The two additional teams revisited a familiar project for KID teams – that of continuing to refine crib designs to be as safe as possible.  With the new crib standard in place, today's cribs are as safe as they have ever been. Injury data however points to two remaining hazards.  Most serious are falls from cribs.  As babies reach the ability to stand, some are very adept at climbing and launching themselves over the rail – in many cases leading to serious injuries.  In addition, SaferProducts.gov is replete with complaints about limb entrapment in cribs.  The students were asked to develop solutions that didn't add hazardous materials such as bumper pads to the crib design. 
Both teams developed mesh liners for cribs.  The SafeCrib team redesigned a crib frame to incorporate a mesh liner and lowered the crib platform to address climbing hazards.  A zipper in the mesh liner allows access to the sleeping infant.  The Safety Net team designed an after-market mesh liner that was held taut by the crib mattress, and a top rail cover with a wider rounded edge that reduced the likelihood a child could use the top rail for climbing out.  A lesson learned for this team was to listen to concerns others raise about a design and figure out how to address those concerns – not to just stick with a potentially dangerous design because of time or cost restraints.  The SafeCrib team was struck by the fact that just because a design is out in the stores doesn't mean there isn't a way to improve it and make it safer. 
We were struck by how seriously these students took safety.  All got input from parents and caregivers, designing the product around real-world use – not their ideal use of a product.  One said the lesson he learned was to take his work very seriously – a mistake in product design or overlooking a hazard could lead to injuries of a young child. 
You can view the student designs on our TEST Progress page and see videos of our young engineers talking about their projects and the lessons they'll take away on KID's YouTube page.  Please note these are student projects and only prototypes.  The projects were developed through KID's TEST Program developed to integrate safety into design to improve the safety of children's products.  If you are a professor or administrator in an engineering program and would like to talk about how we can work together toward that end—we'd love to talk with you!