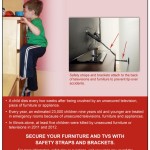 The dangers of TV and furniture tip-overs are on the rise, especially as it is becoming more common to own one or more television sets per household. On average, 1 child in the United States receives emergency treatment for a TV-related injury every 30 minutes, while 1 child dies every 2 weeks due to these injuries. Between the years of 2000 and 2011 alone, there were at least 215 deaths associated with this type of accident.
In a new study published by Pediatrics, authors found that over 380,000 children were injured from TV-related injuries and visited emergency rooms between 1990 and 2011. This is equivalent to an average of over 17,000 children every year. Young children between the ages of 1 and 4 are especially at high risk of sustaining injuries that require emergency medical attention. These serious, but preventable, injuries often occur at home, and lacerations and soft tissue injuries to the head and neck region are very common.
Efforts to inform the public about the dangers of tip-overs, and provide injury prevention and safety tips, are essential to reducing the number of casualties.
What can you do to prevent injuries?
Place TVs on appropriate furniture, like TV stands and entertainment centers, instead of dressers, bureaus, chests of drawers, and armoires.
TVs and furniture should be secured to walls using anti-tip and anchoring devices.
Don't place toys and other items on top of the TV or tall furniture, as children will try to climb the furniture to reach for these objects and cause a tip-over.
What else can be done?
Dressers and other furniture is now required to come with an anchoring strap or device.  TV manufacturers should do the same.
More retailers should stock and sell these anchoring devices, pointing them out to anyone purchasing a new TV.  While new TV's may come with straps or mounting hardware, the straps should be purchased for the older TV that is being moved to the basement or bedroom.
Guidelines for stability performance standards of TVs must be strengthened for increased safety. The new stronger voluntary furniture standard should be implemented to reduce tip-overs.
KID is dedicated to equipping parents with the tools necessary to keep their children safe from preventable accidents like TV and other household furniture tip-overs.  Read more about TV tip-over safety here, and view a poster on furniture and TV tip-over prevention from the Illinois Safe Home Coalition here. (pictured above)
For more information, also visit www.ShanesFoundation.org, an Illinois-based non-profit that is dedicated to furniture tip-over awareness, education and safety. You can also visit www.PreventChildInjury.org to learn more about how to prevent injuries to children and adolescents in the United States.