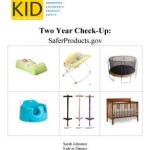 August 14 marks the fifth anniversary of the signing of the Consumer Product Safety Improvement Act (CPSIA) back in 2008. This landmark safety legislation paved the way for improvement in safety standards and lead to the creation of the U.S. Consumer Product Safety Commission's public database, SaferProducts.gov, in March of 2011. This website allows consumers to share their personal experiences with various products, reporting any incidents or injuries that may have occurred during product use. Other consumers can review these incidents reports to double-check their own products or consider before purchase.  In addition, the data provides important information to identify emerging hazards or injuries patterns.
To commemorate this important anniversary, Kids in Danger decided to expand upon an earlier preliminary review of the database and re-visit the past two years' worth of incident reports available at SaferProducts.gov. The key findings and future recommendations have been released in a new report entitled Two-Year Checkup: SaferProducts.Gov, available on KID's website. Some of the highlights include:
Almost one-fifth of the 14,341 reported incidents involved children's products. Almost half of the children's products were nursery products, designed for children under the age of 3.
Forty-five percent of children's product incidents resulted in the injury or death of a child. Twenty incidents resulted in the death of a child, most under the age of 3.
Seventeen percent of the children's product reports involved recalled products, though the majority were posted after the product was recalled.
Many companies were found to be repeat offenders, with more than one product reported. The most frequently reported items included Pampers Diapers by Procter & Gamble, Fisher-Price's Newborn Rock 'n' Play Sleeper, Sportspower BouncePro trampolines, and Bumbo baby seats.
Children are also endangered by general products not designed specifically for children. Large appliances and furniture are common sources of reported injuries.
SaferProducts.gov has begun paving the way to improved consumer information and communication. However, efforts must be continued to spread the word about the database and help consumers become more empowered and informed. Furthermore, the database should be utilized in order to further understand product safety and form preventative measures.