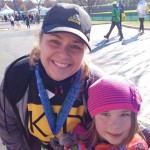 It was a chilly, but sunny fall morning Sunday when the KID Running Team joined thousands of other runners to compete in the Edwards Hospital Naperville Inaugural Full & Half Marathon.  KID had 26 runners who raised almost $16,000 for our vital work to keep children safe.  Some set personal records for the race, for others it was their first half-marathon.  Check out the pictures here.
It's never too early to start thinking about the next race.  If you want to keep up with and maybe join the KID Running Team, 'like' our team Facebook page – we'll post details of upcoming activities there.  And if you are planning to run any race or athletic event and want to raise money for KID, let us know – we have the shirts, fundraising pages and more to get you started. 
So thank you to Geoff Phillips, Tom Cinnamon, Krista Bollnow, Uzma Muneer, Amy Dykstra, Jen Wegener, David Daley, Karen Fletcher, John Roach, Stephanie Vroman, Randal Vroman, Jacqueline Starr, Matt Cushing, John O'Neill, Paul Bogdanski, Eris Azuse, Kelly Petring, Aileen Bloomfield, Grant Davis, Kevin Lyons, Becky Lane, Catherine Pekel, Stephanie Thurston, Bethany Keown and especially team captains, Kristina and Dan Paschall.  You all are our KID Heroes.  It's not too late to support their efforts!