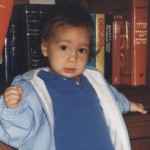 Danny, whose parents founded KID, would be 17 this December 31.  This milestone has us looking back at what we have accomplished, but also forward to what remains to be done to honor Danny's legacy. 
If you haven't already, read our FY 13 Annual Report — a great overview of our progress.  You can also check out the slide show version of our efforts, KID Makes a Difference.  
In the coming year, we'll be working for strong implementation of Danny's Law and the standards it requires for infant and toddler products.  We'll be running our innovative programs to give parents and caregivers the tools they need to keep children safety.  And we'll be your voice for product safety — with regulators, manufacturers and the public. 
We depend on families like yours to keep KID running strong.  Will you consider a year end gift to help us keep kids safe?  Any online gifts made before midnight, December 31 will be matched up to 10,000 by Danny's parents, Linda Ginzel and Boaz Keysar.  Your contribution made right now will have double impact on our programs, advocacy and outreach. 
Children need KID.  KID needs you.  Give a gift now that will be doubled by our founder's generous match.