For many this past week has been a break – but things have been busy here at KID! Here's a look at what we've been up to lately:
Promoted the reports, press releases of our partners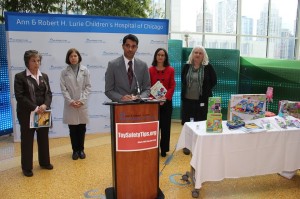 On Monday November 25, KID ED Nancy Cowles joined Illinois Attorney General Lisa Madigan, Congresswoman Jan Schakowsky and Illinois PIRG to release the Attorney General's 2013 Safe Shopping Guide.  Parents and caregivers can use this guide to review children's products recalls of the year before they do their holiday shopping. Check out a video of the release here and an article about the release here.
The next day, KID joined Illinois PIRG both here in Chicago and on the road.  Program Director Laura Nikolovska traveled to Rockford to release PIRG's annual Trouble in Toyland report. The report identified children's products that while not yet recalled but can pose a safety hazard to children. Check out videos and articles from CBS here and from FOX here.
Hosted safety workshops for parents, caregivers
Before the Thanksgiving holiday started, Laura was able to get in one more training for parents and their case managers at Lawndale Christian Health Center in Chicago, Illinois. KID teamed up with SIDS of Illinois for this presentation, so participants left with solid knowledge of safe sleep practices. In addition, other product hazards were discussed and the 3 steps to safety were reviewed so parents could keep their children safe from future injury. KID will host another workshop for additional parents and case managers in January 2014.
After the long weekend Laura was back on the road, this time traveling to Sterling, Illinois to host a training for home and center based child care providers.  A lot of the conversation was focused on finding a safe sleep space for baby, which we actually just blogged about. Check out the post here. KID will be back in the area in the fall of 2014 to host another presentation. If you know of any group- including parents, grandparents, caregivers, or heath care professionals- please email Carson.
Said good-bye to long time safety advocate Inez Tennebaum
It was during this time that the Consumer Product Safety Commission (CPSC) Chair Inez Tenenbaum stepped down from her position at the CPSC. In recent articles about her departure, she cites KID's role in helping the Commission keep children safe. In the interim, current Commissioner Bob Adler will serve as acting Chairman until a new Chair is appointed.
Participated in fundraising campaigns
The recent holidays also marked the end of the Combined Federal Campaign (CFC) kick off season in Chicago, but federal employees have until January 2014 to make a one time or reoccurring donation to KID. Visit the CFC donation page for instruction for how to donate as a federal employee through this program. KID's CFC number is 42080.
Not a federal employee but would still like to contribute to KID's lifesaving work?  Great! Tuesday December 3 kicked off a social media campaigned sponsored by the Giving Library.  For each social media share of KID's Giving Library video, Giving Library will donate $5 to KID.
To start this process, please follow the steps below:
 Visit http://www.givinglibrary.org/
Select "Get a library card" (you can enter your email to sign up, or use your facebook login to create an account)
Chose "discover organizations",   "card catalogue." Then search for "Kids in Danger"
Click "Share video" on the right hand side.