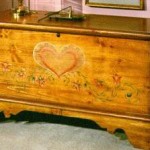 It's a parent's nightmare: a toy or product they bought for their child ends up causing injury or even death.
This tragedy was realized for the Munroe family this past Sunday when their 8 year old daughter and 7 year old son both died when playing in a recalled hope chest  manufactured by Lane Furniture. Reports of similar occurrences led to the recall of these locking chests in 1996. Yet, nearly 20 years later, dangerous products such as this remain in homes posing threats to our children.
The Munroe's story is close to our hearts here at KID, as our founders' 16 month old son, Danny, died in a recalled portable crib that was still in use at his childcare facility. A state inspector missed the recalled crib just one week prior to Danny's death. As we can see, recalled products don't have obvious broken parts or flaws to alert consumers – only by knowing of the recall can families protect themselves.
Our Families' Voices recount stories of similar tragedies: 
Ethan and Riley also both died in recalled portable cribs—recalls that their parents never knew of. Both of these families received these items second-hand and assumed they were safe.
Similarly, young Julianna died in a recalled drop-side crib, another recall that did not reach the parents.
Here's the problem:
From these stories, we see an obvious disconnect between recalls and public awareness—whether it be a parent, childcare provider, or state inspector! The ineffectiveness of recalls has resulted in countless child injuries and deaths. To keep our children safe, regulators and manufacturers – and the public — need to do more to get recalled products out of use.
What can we do?
We must rededicate ourselves to recall effectiveness, starting from the ground up.
Products must be made as safe as possible from the beginning stages of innovation. These deaths show how ineffective recalls can be in keeping children safe, and are a testament to the need for safer product design.
KID has developed Teach Early Safety Testing (TEST), a program that educates engineering students on the importance of designing and testing for safety. Students have the opportunity to redesign recalled children's products to solve previous flaws. It is our aim to help educate new engineers with an elevated consciousness for safety.
Know what products have been recalled which may still be in your home. Learn about recalls at CPSC.gov or at KID's website. Visit our website on your mobile device to search for recalls.
Right now, the only way manufacturers must contact us about recalled products is through product registrations. We encourage all parents and caregivers to learn more about registering products at kidsindanger.org/productregistration.
Together with these steps, we can help make our homes safer, and save our children's lives. Also, CPSC is currently considering making mandatory requirements for what must be done in the event of a recall.  Consider reading their proposed requirements and commenting.  This will assure companies do all they can to retrieve unsafe products.