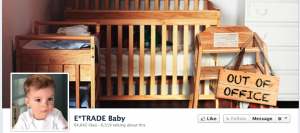 This past March, E*TRADE trotted out its favorite mascot for his final commercial. While many people appear saddened by the E*TRADE Baby's resignation, Safe Sleep advocates like KID couldn't help but happily notice that E*TRADE Baby's last crib was a safe crib.
KID recently started a campaign to remove dangerous products from the E*TRADE Baby commercials. Often times these commercials would feature dangerous drop-side cribs, controversial crib bumper pads, and other sleep hazards surrounding the E*TRADE Baby. These commercials sent a risky message to millions of guardians that these products were safe, when in reality they have been linked to dozens of deaths and injuries.
It's sad to see the E*TRADE Baby go, but at least we can be happy knowing that his last crib was a safe crib.
Thank you to those who supported us in this successful campaign and look forward to future campaigns. The E*TRADE Baby isn't the only unsafe advertisement and KID and our allies will continue to advocate for Safe Sleep messages.