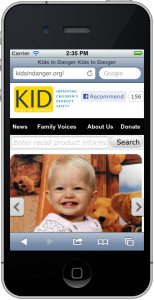 It was just 2 short years ago that we were celebrating the launch of the KID mobile site. Since that time, countless searches have been made by parents and caregivers looking to get safety information on children's products they intend to purchase while on the go.
The site can be accessed by visiting KidsInDanger.org from a smartphone. The home page will display a list of the most recent recalls. The "search" function at the top of the page allows parents and caregivers to enter in the information of the product. If there has been a safety recall of the product, the product name and a picture will appear as well as the recall date. Other features of the app include more information about KID, recent product safety news, and links to KID's social media sites. You can also click and go directly to KID's home site.
Help us keep kids safe and spread the word by telling parents, grandparents, and other caregivers about the app.