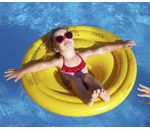 Summer is a time for children to explore outdoors and have fun.  KID interns Sophie Foster and Brad Groebe took a look at popular summer activities and consumer products that often accompany those activities and answers the question: how do children get hurt and how can we reduce the hazards without reducing the fun.  The result is Summer Safety: Product Injury Patterns for Children. 
Here's what we found: 
According to CPSC data, injuries to children ages 14 and under are most likely to happen in the summer months. 
Playground activities, biking and swimming are the summer activities most responsible for injuries to children.
Simple yet effective safety tips can prevent injuries. For instance, nearly 70 percent of all fatal bicycle crashes involve head injuries. Wearing a properly fitted bicycle helmet can reduce the risk of a brain and head injury by as much as 85 percent. 
KID recommends:
Report any problems with products to SaferProducts.gov.   
Children's product testing should include analysis that reviews how a child will interact with a product and what might be done to minimize hazards.
Routinely check the CPSC website for recall notices. Children's products are recalled on average of twice a week and many of them are common summer toys and items. 
If you own a product that is recalled, stop using it. Consult the CPSC website or the manufacturer for refund or repair instructions.  It is illegal to resell a recalled product.
Always provide the appropriate supervision depending on the activity and your child's developmental stage.  Be alert to what they might encounter at a friend or neighbor's house, such as pools or trampolines and provide guidance for their use.
Last but not least, the summer is a time for fun. All activities – from biking to swimming to camping to playing sports – should be embraced and enjoyed by our children. Taking precautions and understanding hazards can allow children to enjoy summer without the risk of serious injury.