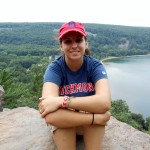 This summer, the KID office was filled with volunteers and interns that contributed greatly to the organization. Some interns, like Paige Rendall, worked out of the office and within their own community to spread KID's lifesaving message to parents, caregivers, and community organizations. Below are her 5 tips on how to be a successful program intern at KID. Interested in getting involved with KID? Great! Check out our volunteer opportunities page to learn how to get involved.
Get to know the organization
This may seem like common sense, but I found out that even if you think you know what KID is about, there's always more to know. What KID stands for is fairly straightforward: protecting children. However, there is such a story behind the mission. Watch this video to learn more.
Have a plan.
Again, this may seem like a basic step, but it's important. If you're like me, you're not used to communicating with people you don't know on behalf of an organization. I found myself stuttering and fumbling my way through what I wanted to say, even though I knew the message I wanted to get across. I found that having confidence was crucial and I suggest writing a script to get through these conversations. Yes, it feels a little silly, but it's a great way to make sure you get to the point and remember all the things you want to say. Check out the KID fact sheet for some fast facts on the organization.
Call, email, call, mail, repeat.
You will not connect with everyone you try right away. I found that you need to be patient, persistent, and just keep trying. One thing all organizations have in common is an address, so I bought a book of twenty stamps for less than $10 at the post office and found that it was a quick way to reach out to a lot of places at once. The KID postcards with the 3 Steps to Safety can be mailed with just one stamp and provide a lot of information about the organization.
Broaden your horizons.
As my internship progressed I started to think outside the box and I realized the opportunities to connect organizations with KID are limitless. For example, if you attend a local church, they may have a nursery during the service and would probably be interested in learning how they can keep their kids safe. In addition, local coffee shops and grocery stores usually have bulletin boards of some sort that are meant for community posts, including Starbucks, which is often a popular spot. Take a few of the KID informational tear-off flyers and ask an employee if you could hang it up. More often than not they will say yes.
Don't give up!
You might get overwhelmed or discouraged at times, but don't give up! KID has a lot to offer and it may take several attempts to connect with an organization, but remain confident in the mission and don't let anything get you down!