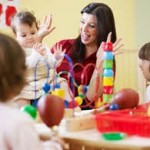 KID released the findings from a survey of Illinois child care providers in our latest report, Safe Products and Child Care: An Illinois Snapshot. We found that Illinois is missing out on an opportunity to improve child care safety.
Although Illinois has some of the most progressive child care product safety and safe sleep regulations on the book, 49% of child care workers report seeing at least one recalled or otherwise prohibited product and 37% indicated that they had seen either unsafe sleep products or practices in use at their facility.
"This survey clearly indicates the continued need to educate providers and parents about children's product safety," said Sessy Nyman, VP of Policy at Illinois Action for Children.  Previous experiences show that educating child care providers has additional benefits of educating the families they serve.
How can we improve these numbers and make our children even safer? The survey found at least two possible ways Illinois can strengthen child care safety.
First, child care workers are eager to learn more about these potentially deadly threats in their facilities. Nearly all child care workers already agree that child product safety should be a priority in child care facilities (81% strongly agree, 10% agree) and most are interested in additional training on the issue (66%). Illinois doesn't have to convince child care workers just how serious providing a safe environment in child care facilities is. Illinois needs to provide its child care workers with greater access to child product safety and safe sleep specific trainings.
Second, only 33% of child care workers could report that DCFS had taken the required steps in its inspection to make sure that child care facilities were following already established child product safety rules. These rules are meant to protect children from the serious injuries and deaths caused by dangerous children's products in child care. However, without enforcement, the rules are only a symbolic victory in the fight to protect young children.
It is a well-known  that the Illinois DCFS is overloaded and underfunded. If the hardworking DCFS child care inspectors are going to be able to perform timely and thorough inspections, then Illinois must provide the DCFS with adequate funding and staffing resources.
Since Illinois passed the Child Product Safety Act in 1999, it has been known as a leader of child product safety. We urge all stakeholders to work together to continue that legacy and keep children safer in child care and at home. 
See how your home or child care stacks up on our survey.   Use this checklist of products Illinois child care workers reported in use at their child care facilities.