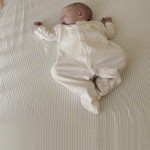 October has been marked as SIDS awareness month in the US. KID would like to use this opportunity to review the importance of safe sleep environments for infants.  Below are our top three pieces of advice for safe sleeping for infants.
Infants sleep safest in a crib that meets the toughest standards. Any crib manufactured after June 28, 2011 meets toughest standards in the world and therefore the safest place for a baby to sleep. It may be tempting to reuse an older crib but cribs made before June 2011 will not meet these federal standards. We advise you to invest in a crib that meets these new safety standards.
Decorate the room, not the crib. Many parents want to decorate every corner of their new baby's room, including the crib. However, adding decorative items and other accessories to a crib results in an unsafe sleeping environment. The picture above shows what the inside of a safe crib looks like. Remember, inside the crib, bare is best!
Ensure your babies travel sleeping environments are safe too. If you are using a portable crib when you baby is not sleeping at home, make sure the crib hasn't been recalled. If possible, invest in a portable crib manufactured after February 28, 2013 as these portable cribs meet tough new standards that their older counterparts do not.
Lastly, be sure to register your children's product either online or through the product registration cards that come with the product. This is the only way a manufacturer can contact you in the event of a safety recall.
If you want to learn more about safe sleep environments, check out our safe sleep tips flyer. To keep up on safe sleep practices as well as other child product safety news, sign up for KID's email alert.