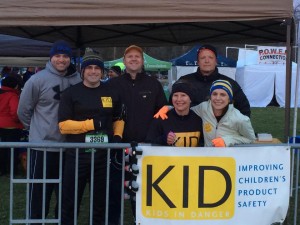 Nine members of the KID Running Team successfully completed their runs at the second annual Edward Hospital Naperville Marathon and Half Marathon, eight participating in the half marathon and one in the full. Through this race and the earlier Run Forest Run 5K/10K in Aurora, the KID Running Team raised almost $7,000 to support KID's programs this year, $4,200 from this past weekend's run.
Anyone can join our running team, and participate either with a group or simply raise money for KID in any race. Learn more and sign up to fundraise for KID at our FirstGiving page. To get involved in the team, please contact Nancy.
Thanks again to our nine champions: Robert Garagiola, Dan Paschall, Kristina Paschall, Kevin Lyons, Paul Bogdanski, Amy Dykstra, John O'Neill, Matthew Cushing, and Joseph Fodor!