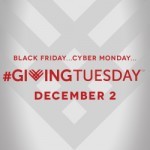 You've heard of Black Friday and Cyber Monday but what about #GivingTuesday? This day isn't about getting the best deals but rather about giving back. KID is a partner organization in the #GivingTuesday campaign which connects individuals, nonprofit organizations, and the businesses supporting those organizations. 
What makes #GivingTuesday unique is that it is a way to make a difference and get involved with your favorite nonprofit organizations. Your donation allows KID to continue our life-saving work. 
There are other ways to make a positive impact on KID as well.
Join the #UNselfie movement to help raise awareness of KID.  Take a "selfie" with a caption to show how you and your friends are giving to KID this year.  Use the hashtags #UNSelfie and #GivingTuesday and post it to Instagram, Facebook, Twitter – and share with friends!
Considering volunteering with KID; with a small staff we rely on the time and talent of our volunteers every day.
Want to be a part of a systematic change? Then KID's Action Team could be the right opportunity for you.
KID's Running Team is another opportunity we have to not only make a difference but to have fun doing it!  For more ways to get involved with KID and help keep children safe, email us.
We hope that you will join the #GivingTuesday campaign on Tuesday, December 2, 2014 and give back to KID.  Donate securely online.  Use #GivingTuesday hashtag in your posts and tweets to encourage others to follow in your footsteps and give back this season. See if your employer is set up to match your contribution. Help make this day as popular and successful as Black Friday and Cyber Monday. Thank you for making this not only the season of giving, but also the season of giving back.