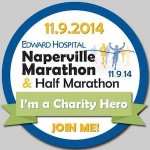 This Sunday marks the second annual Edward Hospital Naperville Marathon and Half Marathon, and nine KID supporters will be running as part of the KID Running Team. Each runner has set a goal of raising $500 to help promote the development of safer children's products, advocate for children and educate the public about dangerous children's products. The team has already raised over $4,000. The marathon course will take them from downtown Naperville through streets and forest preserves.
KID will be in the Charity Village with support for our team and KID info for spectators.  We'd love to have you join us.  The marathon also features a post-race area called Celebration Village, where participants and friends can listen to live bands and visit food tents and a beer garden.
KID is so grateful for this team's efforts, led by Kristina and Dan Paschall.  In the past few years, they have raised over $25,000 for KID. Learn more and support the KID Running Team here.