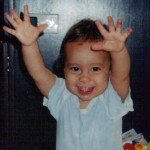 This Wednesday, on the last day of 2014, Danny Keysar would be turning 18.  A young adult, planning his next steps to college to fulfill the potential all parents see in their children.  But Danny isn't here – he died before his second birthday in a poorly designed, inadequately tested, recalled portable crib.  His parents founded KID as Danny's legacy to keep other children safe. 
KID's work is done to honor the memory of Danny and other victims of unsafe children's products.  He is always in our thoughts as are Ellie and Andy, Preston and Juliette, and too many others. We are proud of the legacy we are building in their memory that keeps other babies safe.
Danny died from a flawed children's product safety system that allowed a dangerous crib to be sold and then remain in use even after other babies had died.
Fortunately, that flawed system has changed tremendously – in part to your support and KID's efforts.  Danny's Law adopted in 2008 and still being implemented today assures that the portable crib that took Danny's life would have never made it to the market today.  A reactivated CPSC with adequate funding and strong leadership continues to take steps to improve children's product safety. 
But we can't rest – new product designs still come on the market – as did the crib that killed Danny – without safety standards or stringent testing.  As recent coverage on ABC News outlets showed, too many recalled products remain in homes and for sale online – leaving our children vulnerable.  And if KID isn't at the table to speak up for children on standard setting, new regulations or effective recall measures – our progress can disappear. 
In 2015, KID will be increasing our outreach to vulnerable communities, participating in the strengthening of standards for high chairs, activity centers and slings as well as watching for emerging hazards, and working hard to increase recall effectiveness.  We will work to keep dangerous products off store shelves and to quickly get recalled products out of our homes and child care facilities. 
You can help: 
Make a donation to KID between now and year's end, and Danny's parents will match all online contributions up to $10,000.
Join the KID Action Team to help reach policymakers and regulators with important product safety actions. 
Report any product that appears to be unsafe to CPSC's SaferProducts.gov. Not only will this provide the information to CPSC for a potential recall, but other parents can review your report and take action – even before a recall.  You can also sign up and search for recalls there. 
Thank you for your support of KID and we look forward to working together to make 2015 a safer year for all children!
Nancy Cowles, executive director