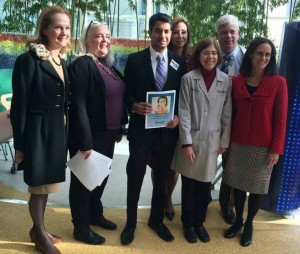 At KID, we pride ourselves on giving a voice to parents and caregivers by giving them a seat at the table to ensure safety is the first priority when it comes to children's products. However, the strength of our voice and the impact of our efforts are significantly increased when other advocates and partners in safety join their voices with ours. Over the past month, KID has teamed up with the Illinois Attorney General Lisa Madigan, Illinois PIRG (Public Interest Research Group) Director Abe Scarr, and Dr. Elizabeth Powell from Lurie Children's Hospital for local media appearances regarding the release of several important reports on child product safety. Below are brief overviews of these collaborations and links to the media.
November 24: KID's Program Director Laura Nikolovska joined Illinois Attorney General Lisa Madigan and IL PIRG's (Public Interest Research Group) Abe Scarr for the annual release of the Attorney General's 2014 Safe Shopping Guide report. The report is released yearly right before the start of the holiday season and enables parents to have an easy- to -read guide of all the children's products that have been recalled in the past year. See the ABC news video here.
December 3: At Lurie Children Hospital, KID's Executive Director Nancy Cowles joined Illinois Attorney General Lisa Madigan, IL PIRG's Dev Gowda and Dr. Elizabeth Powell for PIRG's release of the 2014 Trouble in Toyland report. Unlike the Attorney General's report which lists recently recalled children's products, the PIRG report focuses on products that could be potentially dangerous for children but that have not been recalled yet. See a clip from the Chicago Tribune here.
This local media is in addition to the nationwide attention KID received this past November with the #RecallRoulette media coverage by Brian Ross of ABC news.  This coverage was prompted by, in part, the February 18, 2014 release of KID's report After the recall: dangerous products remain in homes.
2014 is quickly coming to a close, but we are certain that this ongoing media attention will provide KID with a positive momentum going into 2015 and continue to shed light on the often overlooked issue of child product safety.